Arizona Athletics Capital Campaign
Completed Projects
---
The Arizona Athletics Capital Campaign is a multi-facility project that supports all 21 sports programs and 500 student-athletes. Since 2010 the Wildcat Club, through the generosity of our donors, has supported the enhancement of multiple facilities and projects.
Doug & Ann Allred Football Locker Room
Completed 2022
Cole and Jeannie Davis Sports Center
Completed 2019
Located on the former site of Kindall-Sancet Stadium adjacent to National Championship Dr.
90-yard field with a 10-yard end zone, and ceiling height of 65 feet
Full-width, climate-controlled multipurpose facility for each of Arizona's programs to utilize for training and conditioning amongst other opportunities, while also serving as a gameday hospitality area.
A monument honoring the two former Arizona Baseball coaching legends and the former Arizona Baseball stadium is planned. Design and details are still being finalized.
Arizona Stadium - East Phase 1
Completed 2018
New restroom and concession facilities
Lower concourse access from south end zone seating to new east side amenities
Renovating ZonaZoo seating, lower east side concourse, and gate entry
A second phase is anticipated to provide renovations including seating, additional concessions and restroom upgrades to other areas of the stadium. Construction is expected to commence in January 2019 and be completed in time for the 2019 football season.
Hillenbrand Memorial Softball Stadium
Completed 2019
Renovations to the existing seating areas
New shade structure for the infield
New restroom and concession facilities
New ticket office and souvenir stand
New premium club seating
Renovations to the press box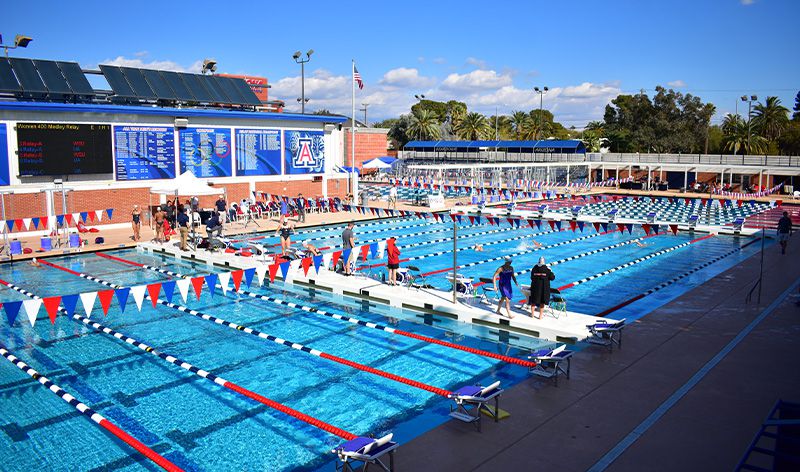 Hillenbrand Aquatic Center
Completed 2019
Rebuild and expand the 50-meter pool to 65 meters, including the old diving well
Increase the number of 25-yard short course lanes from 18 to 22
Replace and significantly upgrade the pump and plumbing infrastructure
New chemical and filtration infrastructure and storage
Arizona Stadium
Lowell-Stevens Football Facility
Completed 2013
Construction of the Lowell-Stevens Football Facility to house Arizona Football team locker rooms, coaches offices, team meeting rooms, weight rooms, athletic training & conditioning facilities, nutrition centers, and the Bear Down Kitchen dining facility
Opening of new premium seating options, including premium club seating, club boxes, and the Sands Club
Installation of a large video board
New field turf
New ADA ramp and ADS seating
Installation of chair backs to the lower east side stadium seats
Construction of Bear Down Field